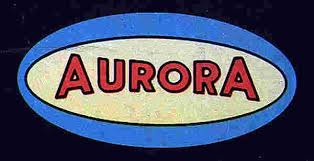 Aurora Plastics Corporation was founded in March, 1950 by engineer Joseph E. Giammarino and businessman Abe Shikes in Brooklyn, New York, as a contract manufacturer of injection molded plastics.
With the hiring in 1952 of salesman John Cuomo, the company began the manufacture of its own line of plastic model kits. The first of which, an inexpensive all-plastic model airplane kit.
In 1960 Aurora went into the manufacture of slotcars basing their model on the (HO or 'half O gauge' as it was called in England) work of English inventor, Derek Brand who first developed a small motorized car to be used with model railroads. Derek's company Playcraft had introduced the Playcraft Highway system at the Brighton Toy Fair in England and Aurora promptly acquired the marketing rights to the Playcraft product line for sale in the US Market.
Aurora succeeded in slotcars where others failed because they spent time, energy and money on marketing. Slotcars catapulted Aurora to the top of the hobby world and it was the product line that ultimately defined the manufacturer and by 1965 Aurora had sold an astounding 25 million HO slotcars and dwarfing the sales of any other slotcar company in the United States regardless of scale at the time.
Aurora Plastics continued producing games, model kits and slotcars well into the 70s, however, the company that once described itself as the General Motors of model car racing, selling about one-third of all model car racing equipment that was in use during the sixties in the US, for many reasons closed its doors and Aurora disappeared. However the company made an indelible impression, subsequently making their product desirable even for collectors today all around the world.
For nearly 30 years, Aurora Plastics Corporation led the way in popularising some of the most spectacularly successful hobbies of the modern era and rose by the 1960's to become the world's largest hobby company. In the 1970's Aurora expanded even further, becoming one of the nations foremost producers of tabletop games.
Vintage Aurora 1/32 Scale Slotcars
Predominately HO scale, Aurora did also enter into other scales including 1/32 scale. Aurora management felt that Aurora's leadership role in slotcars demanded they also produce 1/32 slotcars and enter the slotcar raceway business - and do it in a very big way. Aurora subsequently purchased the old Vic Tanny's gym in West Hempstead near their headquarters and operated a massive Raceway Centre there with all the prevalence of the large scale slotcars in the mid 1960s, unfortunately, however, this fad didn't last long and by 1967 the novelty had worn off.
Cars produced
1/32 Scale
---